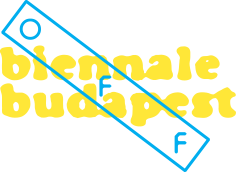 CURATOR
MIKLÓS PETERNÁK IS THE CURATOR OF THE EYE RESONATOR AT POWER PLANT EXHIBITION ORGANISED BY C3, CENTER FOR CULTURE AND COMMUNICATION FOUNDATION; THE EXHIBITION IS PART OF THE OFF-BIENNALE BUDAPEST PROGRAMME, AN INDEPENDENT, CURATOR-LED INITIATIVE THAT WILL FACILITATE A LARGE NUMBER OF EXHIBITIONS AND ART EVENTS IN BUDAPEST BEWEEN THE 24 APRIL AND 31 MAY.
MIKLÓS PETERNÁK IS AN ARTIST, THEORIST, EDUCATOR AND CURATOR. HE IS DIRECTOR OF C3, CENTER FOR CULTURE & COMMUNICATION IN BUDAPEST, A NON-PROFIT ORGANISATION PROMOTING THE EXCHANGE BETWEEN ART, SCIENCE AND TECHNOLOGY. HE IS ALSO PROFESSOR OF MEDIA ART AND CHAIR OF INTERMEDIA DEPARTMENT AT THE HUNGARIAN UNIVERSITY OF FINE ART. IN THE PAST DECADES PETERNÁK WAS THE CURATOR OF LARGE-SCALE MEDIA ART EXHIBITIONS INCLUDING PERSPECTIVE (1999), MEDIA MODEL (2000), AND CO-CREATOR OF BUTTERFLY EFFECT (1996) AND VISUAL TACTICS (2009). IN 2011 HE WAS COMMISSIONED CURATOR OF THE HUNGARIAN PAVILION ON THE 54TH VENICE BIENNALE.
ARTIST
BRIGITTA ZICS IS A HUNGARIAN ARTIST BASED IN THE UK. EYE RESONATOR IS HER LARGE-SCALE IMMERSIVE INSTALLATION WHERE SHE INVESTIGATES THE INTRINSIC NATURE OF BEAUTY BY FACILITATING UNIVERSAL AESTHETIC EXPERIENCES AWARE OF EMOTIONS AND IMAGINATION.
HER MAIN INTERESTS ARE EXPERIENTIAL ART, TECHNOLOGIES OF THE BODY AND EXPLORATION OF THE NEW INTERACTION BETWEEN HUMAN AND MACHINE THROUGH AN ARTISTIC LENSE. HER WORK AND RESEARCH HAS BEEN BROADLY PUBLISHED (MIT, SPRINGER) AND EXHIBITED (E.G. KINETICA, SIGGRAPH, IMAGINA AND ISEA). ALONGSIDE MIKLÓS PETERNÁK SHE WAS THE PROGRAMME DIRECTOR OF DATA IS BEAUTIFUL, AN INTERNATIONAL SYMPOSIUM IN 2012 THAT EXPLORED DATA VISUALISATION IN THE ARTS.
COLLABORATOR: COMPUTER SCIENTIST
JOHN SHEAER IS A RESEARCHER AND EDUCATOR BASED IN THE UK. HIS RESPONSIBILITIES INCLUDE EYE RESONATOR'S HUMAN-COMPUTER INTERACTION AND SYSTEM DEVELOPMENT.
HE COMPLETED HIS DOCTORATE IN COMPUTER SCIENCE AT NEWCASTLE UNIVERSITY AND IS NOW SENIOR LECTURER IN GAMES COMPUTING AT THE UNIVERSITY OF LINCOLN. HIS RESEARCH INTERESTS REVOLVE AROUND 'CREATIVE PLAY IN PUBLIC SPACES'.
ARCHITECT: CONTROL ROOM
VIRGIL BORBÍRÓ / BIERBAUER (1893-1956) IS A HUNGARIAN ARCHITECT, THEORIST AND URBAN PLANNER. BORBIRÓ IS THE ARCHITECT OF THE ART DECO CONTROL ROOM (OR SWITCH ROOM) AT THE KELENFÖLD POWER STATION WITH ITS ACCLAIMED OPAL GLASS ROOF THAT OPENED IN 1928. EYE RESONATOR AT POWER STATION IS A TRIBUTE TO BORBÍRÓ'S LEGACY.
BORBIRÓ RECEIVED HIS DOCTORATE IN 1920 AT THE UNIVERSITY OF MUNICH. HE WAS THE EDITOR OF THE TÉR ÉS FORMA (SPACE AND FORM) JOURNAL (1928-42) WHERE HE WAS AN ADVOCATE OF MODERNSIM AND PROVIDED CRITICAL ANALYSIS OF AVANT-GARDE ARCHITECTURE. BORBIRÓ RECEIVED THE ARCHITECTURAL COMMISSION OF THE KELENFÖLD POWER PLANT STATION AFTER KÁLMÁN REICHL'S DEATH, WHO WAS THE ARCHITECT OF THE BOILER ROOM (1914) AND THE TOWER (1926).
COLLABORATORS
ORGANISED BY
Audrey Aquilina film maker and the producer of the Eye Resonator at the Power Plant documentary.

ZSIGMOND PETERNÁK IS THE CREATIVE CONTENT MANAGER OF THE EYE RESONATOR AT POWER PLANT EXHIBITION.

ADAM PARKINSON IS THE COMPOSER OF THE EYE RESONATOR'S SOUNDSCAPE THAT RESPONDS TO THE EYE MOVEMENT AND VISUAL EVENTS ON THE SCREEN.

GABI ARRIGONI IS THE CURATORIAL COLLABORATOR AND CO-CREATED THE SCENARIOS OF 'FUTURE FICTIONS'

JAMES GHANI IS THE INFORMATION DESIGNER OF THE EYE RESONATOR EXPERIENCE.

GAVIN WOOD IS THE GRAPHICS PROGRAMMER WHO USED HIS OWN ENGINE TO PROGRAMME SWARM BEHAVIORS SIMILAR TO BE FOUND IN NATURE LIKE BIRD, FISH, PLANKTON OR INSECT FLOCKING.

ANDOR GAUDIA IS A COMPUTER SCIENTIST WHO DEVELOPED THE HARDWARE SYSTEM OF THE EYE RESONATOR.

OLIVER MARCHANT AND RACHEL GAY WROTE THE 'FUTURE FICTION' SCENARIOS.

CARLOS JUNIOR IS THE SOUND DESIGNER OF THE 'FUTURE FICTION' RECORDINGS.

SUPPORTED BY

THANKS

TIBOR HORVÁT DIRECTOR OF KELENFÖLD POWER STATION, FOR HIS ACTIVE SUPPORT TO MAKE THIS EXHIBITION HAPPEN.

For the assistance and support of Tamás Varga, Zsolt Humenyik (KELENFÖLD POWER STATION); Zoltán Fehérvári, Pál Ritoók (HUNGARIAN MUSEUM OF ARCHITECTURE:); Nikolett Erőss, Hajnalka Somogyi, Kati Székely, Orsolya Polyacskó, Barnabás Bencsik (OFF-Biennale Budapest). Production team of C³ Center for Culture & Communication Foundation: Márton Fernezelyi, János Antal, Alma Gémes, Gabriella Szücs, István Pecsenyánszky and Gábor Acsai.

Ibolya Csengel-Plank, research publication at www.eyeresonator.c3.hu, Zoltán Szegedy-Maszák, Control Room photography, Bori Rutkai, Narration( Hungarian), Marchant Oliver and Hawkins Julian, Narration ( English), Miklós Erhardt Hungarian Translation, Róbert Langh, Mona Birkás, Gergő Varga, Photography / Viualisation / Assistance and Anna Barnaföldi, Levente Szabó Project Assistants.